With such a variety of social media professionals under one roof, we know that each and every one of you and your teams come with different and unique needs. Therefore, we are here to let you grow the relation with your customers, followers, and fans effortlessly while advancing your social media management.
Two new Inbox nifty goodies, inspired by your hottest requests, are now available for everyone – Assign to team and Admin posts.
Assign to team
Great teamwork is the key to great achievements and the teams in Fanbooster help you to boost your performance. Good news continue with the new option – Assign to team.
Now it's super simple to assign different tickets to dedicated teams, so that team members will easily see and manage conversations assigned to their team. No more extra effort to search for the right people from the right team. You can be sure that all members of the team will be notified and aware. Team tickets folder in Inbox is the place where each team and team member will see tickets assigned to them.
When to use it?
Here are a few examples of how convenient it is to use the 'Assign to team' option:
Team with members working on shifts? No need to wonder who is on board today. Just assign to the whole team.
Question about customized service and price? Send the request immediately to the sales team.
Does customer want to know the working hours of your office in another country? Ship the ticket right to your team from abroad.
Along with 'Assign to team' option, we've combined all assign actions in one button. When assigning to a team member, team, or to yourself, you will be able to do it from one place.
How does it happen?
When you press 'Assign', a dropdown menu appears listing the team members. Above them is a switch option 'Assign to team' that shows all teams in your Brand. Choose a team and you're all set. Switch back to team members by pressing 'Assign to user' above the team list, where you can choose a colleague or yourself to assign to.
Notifications?
Of course! We made sure all team members will be notified about the new assigns to their team. All members will receive notifications and emails when a ticket is assigned to the team.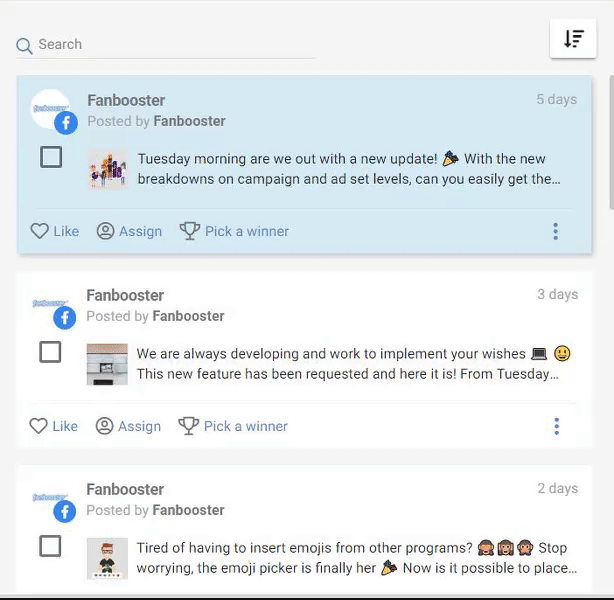 Admin posts in Inbox
We know how much you wanted it and here it is – Admin post view in Inbox. No doubt, it is quite a convenient way to find the content created on behalf of your page/s and to have a full overview of comments and replies.
How to get your admin posts?
Go to 'Filter setup', click on 'Admin post' and Voila! It's that simple. And it gets even better.
In the Feed view, we have added 'Pick a winner' button on admin post tickets to make picking winners from contests more convenient. Nice, eh?
Certainly, you can add an Admin posts custom filter view to your Inbox menu to get quick access whenever you want. Simply uncheck all other types of items but Admin posts, click on 'Save as new' and follow the next steps to save it.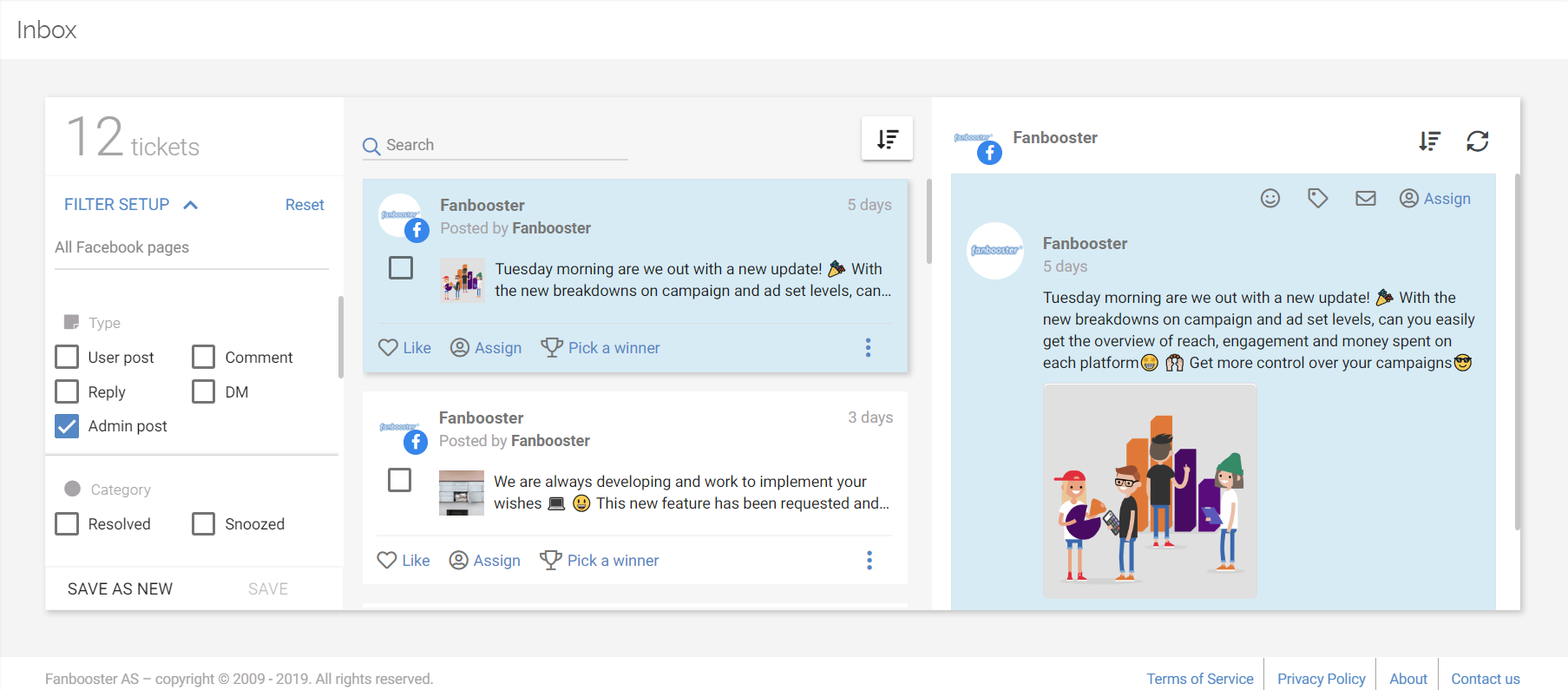 As we said, these new updates in Inbox are inspired by you and thanks to you the Inbox module in Fanbooster is getting better than ever. By all means, our mission to bring the best experience to you continues with more powerful features and updates baking in the oven and we can't wait to introduce them soon!
Login to Fanbooster and you will find plenty of other delights to enjoy!
Comments
comments